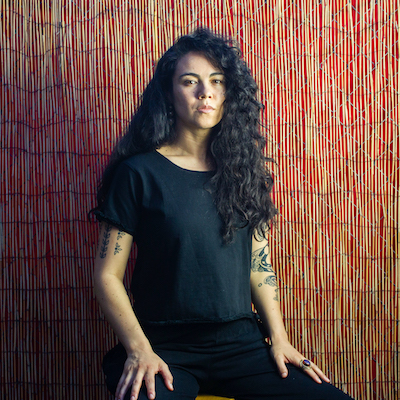 Monday, February 8 @ 11am -1pm via Zoom
Micaela Tobin is a soprano, sound artist, and teacher based in Los Angeles, CA who specializes in experimental voice and contemporary opera, composing under the moniker "White Boy Scream." Within this project Micaela dissects her operatic and extended vocal techniques through the use of electronics. She has performed extensively throughout the western United States, most notably as a guest with hip-hop experimentalists clipping. during their 2017 tour in support of The Flaming Lips. Micaela's most recent full length release, "BAKUNAWA" (Deathbomb Arc) is part sonic ritual, part diasporic storytelling. Of the album, Steve Smith of The New Yorker Magazine asserts that "opera would do well to pay attention."
As an opera composer, Micaela premiered and earned a five-star review for her first original experimental opera, entitled "Unseal Unseam," at the world's largest art festival, the Edinburgh Festival Fringe, in summer 2016; the work was described as "hypnotic" and "paralyzingly beautiful," by New Classic LA after its U.S. debut in October 2017. Her most recent opera, "Belarion: A Space Opera" which premiered at the American Legion Center in Pasadena, CA in February 2019, is about the magickal practices of JPL founder Jack Parsons. Tobin hopes to perform the opera again at the Mount Wilson Observatory in 2021.
As a performer, Micaela most recently played the principal role of Coyote in the critically acclaimed opera, SWEET LAND (dir. Yuval Sharon & Canuppa Luger; Comp. Raven Chacon & Du Yun). She also performed with The Industry in their groundbreaking opera, "Hopscotch, a mobile opera for 24 cars (dir. Yuval Sharon)." Other major roles include the poet Mina Loy in the opera "Dada Divas" (dir. Jacqueline Bobak) which has toured internationally both in Europe and Mexico; as a principal vocalist in the premiere of Ron Athey and Sean Griffith's automatic opera, "Gifts the Spirit"; and as a soprano soloist alongside Annette Bening in the play "Medea" at UCLALive.
Micaela is currently a voice teacher on faculty at the California Institute for the Arts and teaches privately out of her home in Los Angeles, CA.