Alessandro Rovegno
Alessandro Rovegno is a composer, sound artist, and improviser currently based in Los Angeles, CA.
His work is rooted in an innermost relationship with the act of Listening– allowing the phenomenological, emotional, and spatial revelations from Deep Listening to guide the structural and aesthetic manifestations of his pieces. This interest in auditory perception is often explored through gradual manipulation of tone, timbre, and mood over long durations– in both acoustic and electronic mediums.
Rovegno's practice is simultaneously influenced by his current and past experiences working in fine dining food service. Drawing from this, he believes that the listener should be treated as an honored guest and their participation should be one that allows for active engagement and introspection.
Rovegno has a BM in Composition from Cornish College of the Arts, where he studied with Tom Baker and Jarred Powell. He is currently pursuing an MFA in Composition and Experimental Sound Practices from the California Institute of the Arts under the mentorship of Michael Pisaro-Liu.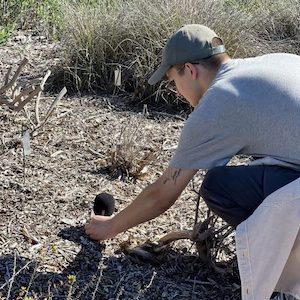 Brody Scott
Brody Scott is a performing saxophonist, artist, improviser and noise manipulator. Having come from a jazz background and having performed with the likes of Michael Formenek, Tim Berne, Ralph Alessi, and others, Brody's compositional techniques sit at the extreme fringes of jazz language. His solo saxophone works experiment heavily with distortion and other effects to create new instrumental sounds which are distinctly "unsaxophonian", even aiming to create an experience which is unearthly. This is combined with use of raw materials, field recording, radio, tape sampling, DAW composition, and low budget equipment to procure a DIY aesthetic which explores the dilapidation of sound. His compositions are primarily improvised, though he also creates Dada inspired collages and paintings that function as scores as well. Brody's music is released under the moniker 'bes'.