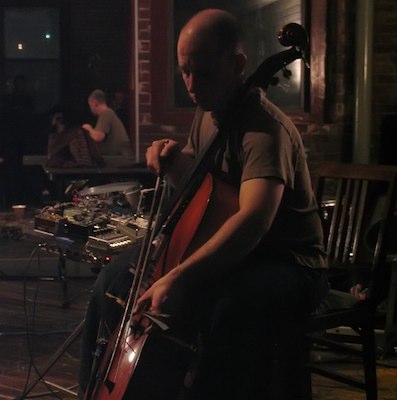 Monday, March 2nd @ 2:00pm in B305B
Vic Rawlings employs a still and unstable sound language that traverses from visceral excess to extreme austerity. He has designed and built two separate instruments to realize this aesthetic, including extensive and invasive cello preparations, some directly based on obscure baroque instrumentation. The amplified cello is used as a resonant wooden microphone. He also continually develops an electronic instrument from the exposed circuit boards of sound processors, effectively producing an analog synthesizer with a highly unstable interface. This electronic instrument is realized by a flexible array of exposed speaker elements, chosen for their often unpredictable and idiosyncratic acoustic qualities. His solo performances deny conventional assumptions about the use of time and refuse alliance with dominant trends in improvised music.
Longtime active collaborations include Laurence Cook Disaster Unit (Laurence Cook, Jason Lescalleet, Greg Kelley), undr quartet (Greg Kelley, Liz Tonne, James Coleman), and the BSC (improvising octet led by Bhob Rainey), as well as duos and trios with Michael Bullock, Mazen Kerbaj, Tim Feeney, Tatsuya Nakatani, Ricardo Arias, Bryan Eubanks, Chris Cogburn, Jaime Fennelly and many others. He has performed with a diverse group of major figures of improvised music including Ikue Mori, Eddie Prevost, Jaap Blonk, Daniel Carter, Donald Miller, and Andrea Neumann, among many others. He has also performed the works of Christian Wolff (with the composer), Karlheinz Stockhausen, John Cage, and Cornelius Cardew.
Vic has toured internationally and appeared at the following festivals: Victoriaville International Festival of Improvised Music (Victoriaville, Quebec), Vision Festival (NYC), Improvised and Otherwise Festival (NYC), Festival of New Trumpet Music (NYC), Boston Cyberarts Festival, Seattle Improvised Music Festival, No Idea Festival (Austin, TX), Fringe Festival (Charleston, SC), High Zero Festival of Improvised Music (Baltimore, MD), Autumn Uprising Festival (Boston, MA), and the Musique Action Festival in Nancy, France.
Rawlings appears on an international sampling of record labels, including Grob, RRR, Sedimental, Absurd, Emanem, Boxmedia, Audio Dispatch, H+H, Chloe and Rykodisc, among others.