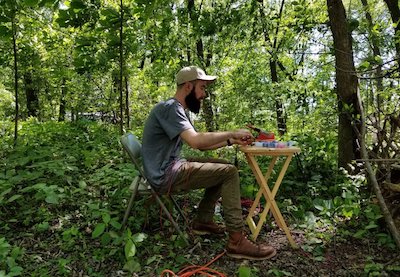 Monday, October 2nd @ 2:00pm in B304
Davy Sumner is an installation artist, experimental musician, percussionist, sound engineer, maker, and educator in Los Angeles, CA. He creates things that are inspired and informed by noise, geometry, physics, biology, and society, often utilizing sound spaitialization, feedback-based systems, auditory illusions, chaos, and original algorithms as key elements his my work. Davy specializes in imagining and fabricating custom technologies and homemade devices that become infused with a dose of personality and unpredictability when introduced to the physical world.
Davy has installed work and performed at Grand Central Art Center, Long Beach City College, The wulf., Automata, REDCAT, Coaxial Arts, The Cedar Cultural Center, The Lynden Sculpture Garden, Public Functionary, and The Eaux Claires Music and Arts Festival. A fiercely active and diverse collaborator, Davy has worked in live and studio settings with Grammy-winner Justin Vernon (Bon Iver), Sean Carey (S. Carey, Bon Iver), Rob Moose (yMusic, Ben Folds), and Eyvind Kang (Beck, Animal Collective), and Michael Pisaro.
Davy earned his Bachelor's in Music Composition from the University of Wisconsin-Eau Claire and his MFA in Experimental Sound Practices from CalArts, where he studied with Mark Trayle, Scott Cazan, and Amy Knoles.