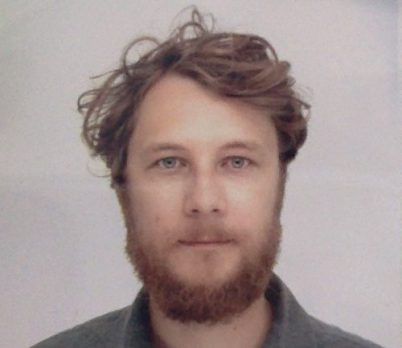 Monday, December 4th @ 2:00pm in B304  |  Tuesday, December 5th @ All day in B305A
ESP visiting artist, composer, and sound artist Bryan Jacobs will discuss his work in B304 during ESP Forum on Monday, December 4th. Bryan will also be available on Tuesday, December 5th to meet with students. A signup sheet for lessons with Bryan is posted on the door of B305A.
Composer, performer, and sound artist, Bryan Jacobs' work focuses on interactions between live performers, mechanical instruments and computers. His pieces are often theatrical in nature, pitting blabber-mouthed fanciful showoffs against timid reluctants. The sounds are playfully organized and many times mimic patterns found in human dialogue. Hand-build electromechanical instruments controlled by microcontrollers bridg  e acoustic and electroacoutic sound worlds. These instruments live dual lives as time-based concert works and non-time-based gallery works.
His music has been performed by ensembles such as the Cleveland Chamber Symphony, Wet Ink, International Contemporary Ensemble, Talea Ensemble, Ensemble Pamplemousse, and defunensemble.  His music has been featured at many music festivals in Europe and the US. He is a 2017 Guggenheim Fellow. He has performed his own compositions for guitar and electronics at the Stone (NYC), Miller Theater (NYC), and the Wulf (LA). In addition to his artistic endeavors, Bryan is the co-founder of Qubit, a New York based new music initiative that presents mostly emerging artists whose work involves creative uses of technology.